Ongoing Adult Programs and Meetings
The French Group: 1st Mondays 6:30-8pm
A short lesson and guided discussion
Osteo Exercise: Tuesdays and Thursdays 8:30-9:45am
Ask at the circulation desk for an information packet
The Knitters: Tuesdays 12:30-2:30 and 6:30-8pm
All welcome
Library Board Meeting: 3rd Wednesdays 7pm
Boomerang Book Sale: 1st Thursdays 4-7 pm NO SALE in July
Greenwich Free Library Volunteer Orientation: 2nd Thursdays 4-5pm
Call to sign up or arrange another time
Check out our wonderful programs for kids too!
Summer 2018:  Libraries Rock!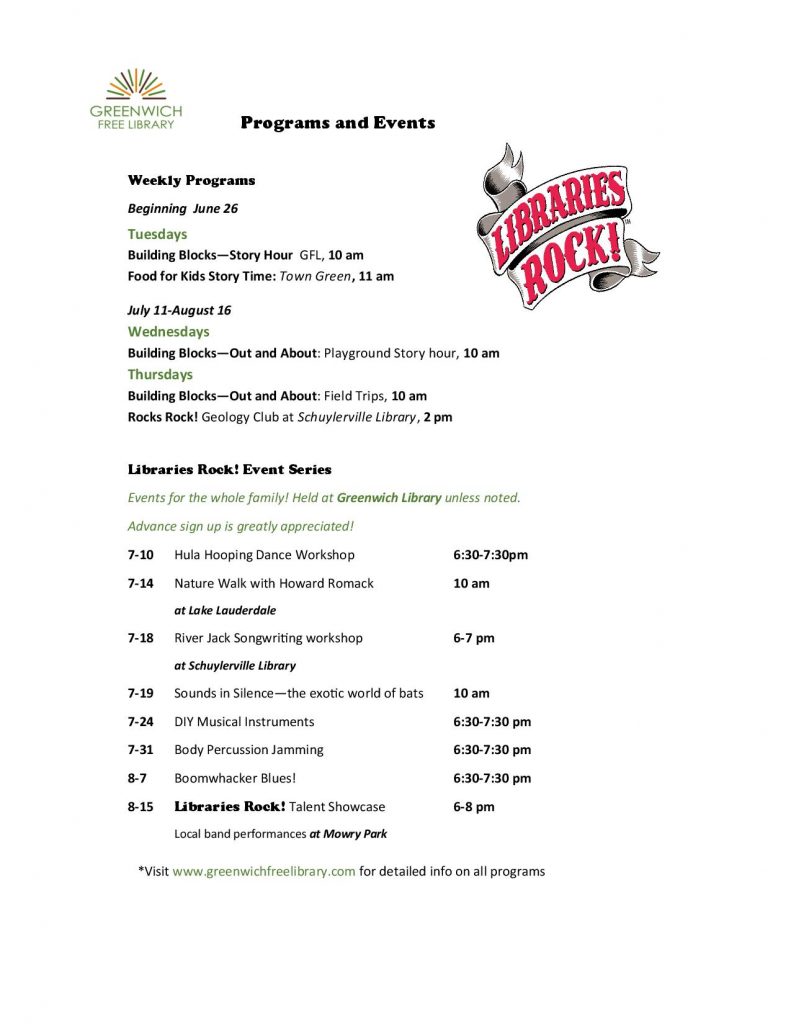 Rocks Rock! Geology Club
A weekly geology club hosted by Schuylerville Library. We will discover the amazing world of rocks through hands-on learning with local geologists, field trips, and rock-influenced art! 

Meet at the Schuylerville Library at 2 pm every Thursday starting July 12th.
Hoop Dance Workshop
Maybe you've tried Zumba, but have you tried hooping? Kick off you summer with high-energy fitness fun! Hooping is a multi-generational family activity and a great source of exercise. This program is a 1-hour long intro to hoop fitness/dance for all ages and stages. Demo hoops will be available, but you can bring your own if you have one. No experience is necessary. Don't forget your water bottle!
River Jack Songwriting Workshop
Join RiverJack Z for a songwriting session as we explore the craft of songwriting by writing and recording a song that is uniquely our own! We'll brainstorm ideas, write lyrics, compose a melody, and make an audio recording! Held at the Schuylerville Public Library.
DIY Instruments
Sounds in Silence—the exotic world of bats
Jerry Schneider has brought the wonderful world of bats to audiences since 2003. Come learn about the features of echolocation calls of bats. The program introduces audiences to local and tropical bats, the vampire bat and many more flying mammals. Informative slide show followed by a T-shirt craft.
Body Percussion Jamming
Look out, Greenwich Library! Chelsie Henderson of Rural Soul Studio teaches you how to use your body as a percussion instrument! We will stomp, clap, snap and sing our way into a fun movement piece. Wayne White will accompany on traditional West African drums to create a rockin' rhythmic explosion!
Boomwhacker Blues!
You'll have the blues after this musical adventure with
 Greenwich Elementary's own Mr. Califano!
 You'll learn about
 the 12-bar blues form, play it on boomwhackers (fun colored tubes that play different pitches), and make up your own blues lyrics.